Exterior Paint Color Ideas
From the Inside Out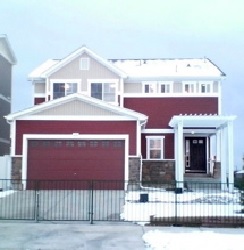 Homeowners are always looking for the latest in Exterior Paint Color Ideas. And why not? Life is about moving forward and embracing change! Our home, our life's anchor, our place of tranquility should also reflect that.
---
This Model Home in Denver, Colorado is a favorite of mine. It reminds me of the nordic homes I've seen in my travels to Finland. Primary colors: reds, yellows, and blues stand out beautifully against a snowy backdrop.

---
This year you will see a new and different approach to the process of How to Paint a House. One exciting trend is to consider the indoors when exploring Exterior Paint Color Ideas. Your house exterior can be an extension of your interior design. You can choose your favorite indoor paint color and apply it to your home's exterior. Or you can choose a shade, tone, or tint of an interior color when painting the exterior of your home. Use that bold interior shade as an exterior accent color.

You can also consider your neighborhood when choosing an exterior paint color for your home. You must decide if you want to just blend into the neighborhood. Or maybe your family wants to make a statement and dare to be a little different! You make the final decision on how to paint a house!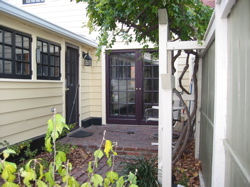 Maybe you want to connect more to the basics of life and the natural way. Your home can reflect that choice! Choose colors which remind you of nature - the sky, the earth, the woodlands. Maybe you want to channel the past and tradition and prefer to use a historic palette. You can find the Best House Paint for older homes at any of the major paint retailers.

---
Room Color Scheme
Benjamin Moore Exterior
Amulet AF-365, Soliel AF-330, Caponata AF-650, Flora AF-470

---
A wide array of exterior paint colors are available to you. There are also countless shades of each color. You must decide if you favor a darker or lighter shade. Darker colors have an air of elegance about them. They do, however, tend to minimize the size of a home. Lighter colors seem to add to the dimensions of a house. Lighter colors are an excellent choice for homes in warm climates. Dark colors will retain heat.

Go for a leisurely drive about town and soak up the atmosphere. See how certain colors look on local homes. If you prefer the warmth of hearth and home then sit by the fire with some decorating magazines. Browse through the colorful homes and see what appeals to you. If you are really serious about seeing how your home can look, then try virtual painting. Many online tools actually exist where you can apply virtual color to your home's exterior utilizing any paint manufacturer.

Exterior Paint Color Ideas for your home are all around you. Get in touch with the color best suited to your lifestyle. Paint your house in colors that will forever welcome you home!

Return from Exterior Paint Color Ideas to Room Color Schemes Home

Share This!