Headboard Ideas
How to Make a Headboard with Style

Looking for some great headboard ideas that will knock your socks off? Often, the key focal point in a bedroom is the headboard.  Even when the wall colors are understated and the bedding seems as if it might blend into the carpet, some clever ideas for this crown jewel can still make your bedroom shout, I've got style!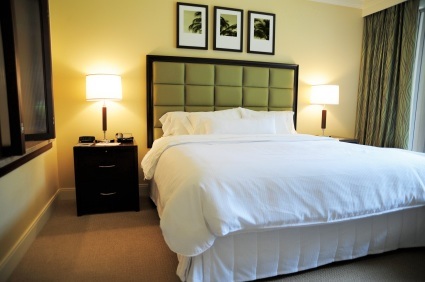 ---
Room Color Scheme:
Benjamin Moore HC-98 Providence Olive; HC-6 Windham Cream; HC-72 Branchport Brown

---
The first question you have to ask yourself is, Do I have a headboard? You might be surprised to know that I have some nifty headboard ideas even if you don't actually have a headboard! It's probably the only piece of furniture that can be dramatically created with nothing but great paint.  Learning how to make a headboard with a paintbrush gives you the flexibility to change your bedroom as often as the seasons change, with the added bonus of not taking up one inch of space in a room that may be just barely big enough to sleep in.

But first, for those of you who do have an honest-to-goodness headboard, let's talk for a minute about how to paint furniture.  Preparing the surface of your headboard is the key to getting a good result.  If you have a wood headboard, consider using a paint stripper to remove any old paint or varnish.  You can also use a sander to prepare the surface.  In either case, you'll want to be working in an outdoor or well-ventilated work space (you do not want this mess inside the house, especially if you decide to use a sander).  Preparing a wrought-iron or brass headboard is similar in that you'll want to sand down the surface to get it ready for fresh paint.  In this case, you'll want to find paint that is made for metal to get the best finish.

Now that we've covered how to paint furniture, let's get to the fun part:  How to make a headboard with a paintbrush!  Yes, you'll actually be painting one of your headboard ideas on the wall surface! I wouldn't hesitate to remove a perfectly good headboard from a bed just so I can use this technique...but that's just me. Although it's one of my favorite headboard ideas, it's much simpler than learning how to paint furniture.  What you'll need is some masking tape, a yardstick, a pencil and a level.  Take a good look at your bed and the wall behind it and imagine what size your fabulous new headboard should be.  Don't be shy about this.  If you have vaulted ceilings in your bedroom you may want to add another two feet to your original design. I would also suggest adding about 14" on either side of the bed. That way you can flank either side of your bed with night stands and lamps for that oh, so sophisticated hotel look.

---
Do It Yourself!

Room Color Scheme:

Benjamin Moore
AF-385 Splendor
AF-175 Barrista
AF-20 Mascarpone

---
Does the thought of trying a cutting-edge technique thrill you? You could try one that is completely different, like designing a series of rectangles in graduated hues with a faux-shadow around the edge. Another is to take the idea of painting a rectangle on your wall, only expanding it. This looks really good with a Queen or King Size Bed. Stay with 14"-16" on either side, but expand the height to 4' or 5' above your bed...something that's beyond the standard headboard height. A foot or two below the ceiling is just fine. And in this case, don't worry about having 8' ceilings, it'll be perfect. And you can add a coordinating 2" painted border, either decorative or solid around the whole thing. And yes, in case you're wondering, you'll be taking the entire headboard design to the floor. With this expanded-height headboard, you'll then be able to hang your favorite pictures above the bed, right in the middle of your newly painted wall/headboard. You could hang three across and really blend in the headboard with the room!

There are a variety of headboard ideas that you can create, from a quick rectangle to an elaborately scalloped Victorian arch.  You can use stencils in your design, and add some shadows to create a three-dimensional look.  If you're creating a headboard in a child's room, you can personalize it with their name or initials.  You can paint a beautiful garden growing out of your bed (flowers, not vegetables).  But, if you find yourself stuck mid-design, push the bed up to the wall and take it all in again.  Even if you have to sleep under your in-progress design for a week while deciding how to get it just right, by all means, do so! In the end, you'll design something that's uniquely you! And guess what? It may be the best headboard you've ever had! I know mine was!

Return from Headboard Ideas to Room Color Schemes Home

Share This!