Kitchen Color and Pizazz with Chalkboard Paint
Can choosing the right kitchen color save your life? Well, that may be a stretch, but it's a fact that certain colors actually stimulate your appetite. You could be noshing more than you intended just because you thought Behr's Firecracker was a fun paint. Do that for a few decades and you may wish you chose the bright blue Flying Fish instead (for your walls, not your dinner)! Choosing paint colors will set the mood for any room, but the kitchen is probably the room most affected.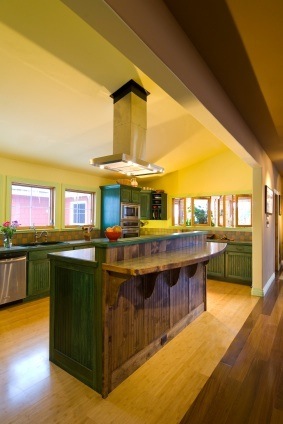 "Yellows could stimulate the appetite! This Modern Country Kitchen has balanced the yellow walls with it's washed green cabinetry. The combination achieves warmth and harmony to an otherwise commercial looking kitchen."
---
Room Color Scheme:
Benjamin Moore
2023-60 Butter
468 Cambridge Green
2028-60 Celadon Green
HC-73 Plymouth Brown
HC-45 Shaker Beige

---
Coordinate your Kitchen Color with fabulous Cabinets!
Love this site!
www.kraftmaid.com

---
Walk into any restaurant and what do you see? Maybe a Daily Specials chalkboard, walls and furnishings of red, orange and yellow, and very little, if any, blue, green or purple hues. Why? Because those hues will relax you and when you are relaxed, your appetite relaxes with you. Restaurants are choosing paint colors that send that not-so-subtle "super-size me" message.  That may not be the same thing you want your walls at home to say when you walk in from a long day.


No matter what paint color you decide to use in the kitchen, the idea of a Daily Specials chalkboard is something you can easily incorporate with chalkboard paint.  Of course in your kitchen, Daily Specials might be "Do Your Homework" or "Girls Night Out - Make Your Own Dinner".  I know someone who created a rectangular area in her kitchen with chalkboard paint where she usually keeps a weekly family calendar.  There's enough room for activities and menus and it really helps them figure out who needs to go where, when, and what nights they don't want to eat at home!  If you aren't sure about where to put your chalkboard, you can try out the chalkboard paint on your pantry door or even a cabinet or two!

Getting back to your kitchen colors...
There are a few things that will help with your decision. First, do you normally eat in the same space where you cook? If you're eating in the kitchen, stick with a calming color and use Behr's Dragon Fire in the formal dining room so you don't end up with all those Thanksgiving leftovers.  By choosing paint colors that are in the blue, green or purple family, you still have thousands of hues to create a personalized color scheme.

Second, how big is your kitchen and what shades are your countertops and cabinets?  Some kitchens (and families) are big enough that one entire wall can be finished with chalkboard paint.  If your counters and cabinets are dark, and your kitchen is small, you may want to chose a lighter paint color.  On the other hand, in a big space, darker colors really create that "heart of the home" cozy feeling you want in the kitchen.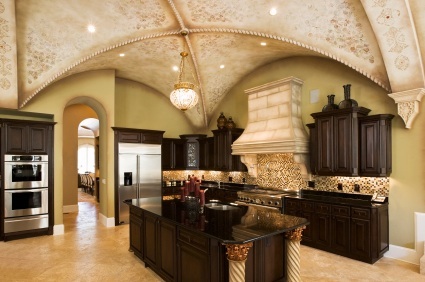 ---
Room Color Scheme:
Benjamin Moore
HC-29 Dunmore Cream
1238 Falcon Brown
904 White Blush

---
Your kitchen colors can say a lot about you, your style, and how you feel about your home.  Using chalkboard paint, however, quite literally says anything you want it to!

Return from Kitchen Color to Kitchen Cabinets

Share This!