Bedroom Color Schemes - Get Stimulating with Behr Paint Color Samples
Selecting bedroom color schemes can be polarizing for couples and can even be troublesome for a single person. Which is why the bedroom is often the last room in a house to receive a fresh coat of paint. However, finding the right palette can make a big change in this room where you start and finish each day.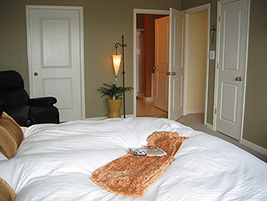 If you're fond of bright, bold colors, it's best to use them in your bedding or other room accents rather than painting them on the wall.  Bright colors not only stimulate your mind, they can also stimulate your appetite – neither of which will help you get to sleep.

It's not surprising that some men prefer a more masculine color scheme for their bedroom, while some women prefer something more feminine.  What you might not realize is there is a huge range of colors that could be considered masculine or feminine.  I know a woman who painted her entire bedroom with Pittsburgh Paints Keepsake Rose and told her husband it was Canyon Stone.  He loved it!  (By the way, many people confuse "Pittsburgh Paints" with Pittsburgh Paint or Pittsburg Paint.  While it's only a spelling error, the correct usage of "Pittsburgh Paints" will get you further in your search.)

By working with more than one color, a bedroom scheme can easily satisfy even the pickiest resident.  It's usually easier to convince someone (or yourself) about color choices if you can see them in something slightly larger than the miniscule paint chip cards you find at the store. 

---
My friend, Annie in Colorado had such a wonderful story about choosing bedroom color schemes that I asked her to share it with us here:

"I picked up eight different Behr Paint Color Samples when I was trying to decide on a bedroom color scheme.  I was only certain about one of the colors and the other seven went right up on the wall next to the one I liked. 
I quickly narrowed down my choices to three, and my husband just as quickly narrowed down my choices to the other four.  I decided to leave those Behr Paint Color Samples on the wall for the next two weeks, thinking that perhaps my choices would grow on him.  Instead, having eight colors on a single wall morning and night started to make me batty.  Suddenly, painting Squirrel on the wall didn't seem like such a bad idea.

That's when I remembered KC's story with the Pittsburgh Paints rose-colored bedroom.  I realized that Squirrel and Oat Straw could easily be mistaken for each other, even by a trained professional.  I could easily swap out my Pixie Wing for his Garlic Clove.  I went back to the paint store that day and asked them to dab the paint color splotch right over the name on the label.  That weekend we painted the bedroom. 

To this day, two years later, we both love how the room looks.  I realized quite some time ago that my husband never really cared what we chose for our bedroom color scheme.  He just wanted to tell his friends that it was squirrel with garlic."

---
Thanks Annie!

Find ways of translating Bedroom Decor Photos into something for your own space!

Return from Bedroom Color Schemes to Room Color Schemes Home

Share This!